Welcome to The Bottom Wiki, and may I say what a smashing blouse you have on!
A wiki covering all things Bottom, a British TV show starring Rik Mayall and Adrian Edmondson. Bottom originally aired on BBC2 between 1991 and 1995, followed by five live UK tours, the most recent being in 2003. The show utilised toilet humour, violent slapstick and the art of the double entendre. Versions of the characters also appeared in the 1999 film Guest House Paradiso. So dive in to the depraved world of Richie and Eddie; two losers living a life of poverty, sexual frustration, flatulence and good old-fashioned British violence!
And if you fancy creating your own stories based on the adventures of Richie & Eddie, head on over to the Fan Fiction area and give us a portion! Social media user? No problem - head over to the Bottom Fan Page on Facebook, the largest online fan community!
Farewell Rik Mayall - You took our cherry... right off! May this Wikia now serve as a tribute to your energy, your soul and your unbreakable funny bone.
7th March 1958 - 9th June 2014
Ruddy Tragic News
Edit
On Monday 28th December 2015, the world learned of the passing of Ian "Lemmy" Kilmister, lead singer of the metal band Motorhead. Lemmy and his band made a special guest appearance in the first episode of the second series of The Young Ones, playing their hit song "Ace of Spades."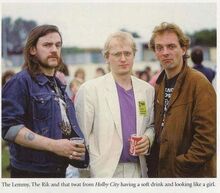 Jump in and have a portion if your testicles dare (or breasticles if any of you smashing birds want to chip in) - it's a screaming hardcore pile of bollocks from Hell!
I am conscious of profanity in Wikia articles, and I am personally not a fan of it (we've gotta keep it PG haven't we?) however the nature of the media being discussed does demand that the odd swear word is used, so please beware. I recommend swear words only be used when quoting dialogue from the various episodes, live shows and films. See Wikia Guidance for further rules.
Bottom News
Edit
9 June 2014 - Rik Mayall found dead at his London home. Post-mortem inconclusive, wife Barbara believes he suffered some kind of cardiac event.
14 November 2014 - Rik and Ade's "Bottom Bench" returns to Hammersmith - read article here.
28 December 2015 - Young Ones guest musician Lemmy Kilmister dies.
Main Pages
What is Bottom's funniest moment?
External Links
Edit
Community content is available under
CC-BY-SA
unless otherwise noted.