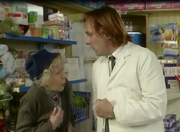 The Old Lady
is the unfortunate victim of Richie's violent self-righteousness in the episode "
's Up
." She is portrayed by Evie Garratt. Whilst trying to do her shopping, she spots
Richie
talking to himself and asks "are you mad?" Richie then threatens her with violence and chases her out of the shop. She later returns with her enormous son who punches Richie in the face in retaliation.