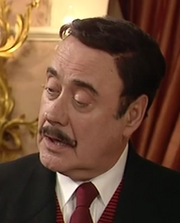 The Maitre'd appears in "Finger," and is portrayed by veteran actor and performer Victor Spinetti. In the episode, he is tasked with waiting on Richie and Eddie's table as they dine at the Marvelloso Splendido Hotel-O. A drunk Eddie twice refers to him as "Audrey," and both take digs at his heritage. The weary gentleman does not seem fazed however, and retires to the kitchen after taking their order.
Victor Spinetti is not French, but Welsh/Italian, having been born in Ebbw Vale to an Italian father and a Welsh mother. His grandfather is said to have walked from Italy to Wales to work as a coal miner.
Spinetti sadly passed away in 2012 from cancer.