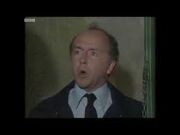 The Gas Man,
real name unknown, appears in the episode "
Gas
" and is portrayed by Mark Lambert. The Gas Man calls at the flat to investigate anomalies in the gas bills on Mafeking Parade. Alarmed to find that the duo's gas meter reads '0000000,' he attempts to make quick his escape, but is forced to stay and have a cup of tea whilst they work out how they're going to explain away stealing next door's gas supply. After enduring a steaming cold cup of tea and a story about trousers, he decides to put his foot down and leave, but is knocked unconscious by
Richie
and
Eddie
. As he lies stone cold on the dining room floor, both believe they have killed him after they fail to resuscitate him with a live mains wire. Not wanting to go to jail for murder, they come up with various plans to hide or dispose of the body, including:
Eating him.
Hiding him under the lounge carpet.
Forging an entry in his logbook and throwing him out of the window onto the roof of a passing bus.
The latter solution is interrupted when The Gas Man rouses from his stupor and runs out in a panic. Appearing to be suffering from some sort of amnesia, he later knocks on the door of Mr Rottweiller in what can only be described as impeccable timing.
Actor Mark Lambert has had a long and varied career as a character actor in film and television, and has appeared in such popular shows as The Bill, Ironside, The Tudors and Dalziel & Pascoe.