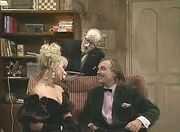 Lady Natasha Letitia Sarah Jane Wellesley Obstromsky Ponsonsky Smythe Smythe Smythe Smythe Smythe Oblomov Boblomov Dob appears in the episode "Digger," and is portrayed by actress Helen Lederer. Richie secures a date with the wealthy Natasha after visiting Lily Linneker's Love Bureau, and goes to great lengths to maintaining that he is an aristocrat, including selling a kidney to afford wine and caviar for their romantic meal. Natasha's motives are revealed to be slightly sinister however, as all she wants to do is marry the next available aristocrat to ensure that she and her family don't go bankrupt. All Richie wants however, is a shag, and retires to his bedroom on a promise from Natasha that she will do the deed with him. Richie fails to perform however, and has a heart attack, leaving Natasha and Eddie alone in the flat for five hours until the ambulance arrives. As Richie is carted off to hospital, Eddie tries to reassure him that it wasn't worth the effort because "she was crap anyway." Richie then exacts his revenge on Eddie by electrocuting him with the ambulance's defibrillator paddles.
Helen Lederer is the only actress to appear in Bottom as two different characters. She had previously appeared in "Apocalypse" as the nurse at reception in Hammersmith Hospital.
Helen Lederer also appeared in Filthy, Rich & Catflap as a midwife.