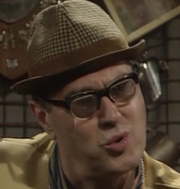 Harry the Bastard is a minor character portrayed by Brian Croucher, and appears in the episode "Parade." He runs the local pawnbrokers and on the day of the 3.30 at Chepstow is faced with an influx of customers wanting to trade in their junk for some good hard cash. Harry's exchange rates however are extortionate and overwhelmingly in his favour, evident when he offers Eddie £1.50 for a priceless carved wooden leg. An argument ensues, during which Harry reveals his name is actually Ted. Harry/Ted is receptive to blackmail, and finally buys the leg from Eddie for £500.
Harry the Bastard was a character in The Young Ones, however was played in that series by Alexei Sayle.
The character's actual name in the episode is open to interpretation; in dialogue he is referred to as Harry The Bastard, and corrects Eddie by telling him his name is Ted. The credits give his full name as Ted Nugent. The real Ted Nugent is of course a famous American rockstar.