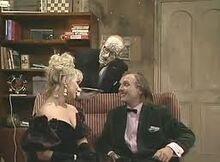 "Digger" is the first episode of the second series. It was first broadcast on 1 October 1992. Richie bags a date with a wealthy aristocrat, but must act like one as well in order to get his wicked way.
Richie and Eddie are at Lily Linneker's Love Bureau, a walk-in dating agency in Hammersmith. After viewing their respective videos, Lily matches Richie with an eloquently-named wealthy aristocrat called Lady Natasha Letitia Sarah Jane Wellesly Obstromsky Ponsonsky Smythe Smythe Smythe Smythe Smythe Oblomov Boblomov Dob, after he blags his application to make it look like he is very well-off. To Eddie's horror, he is matched up with Sarah Ferguson.
The action then moves back to the flat, where Richie has dressed himself in his best clobber and requisitioned Eddie as his butler "Jives." Richie has sold a kidney to afford the wine and caviar, and is clearly on edge in anticipation of Lady Natasha's arrival. After Eddie mistakes, and violently assaults, a cold-caller at the door for Natasha, the pair are eventually interrupted mid-fight when the real Natasha wanders into the dining room. After a few nervous pleasantries, Eddie/Jives serves up dinner whilst Richie blags his way through his alleged wealth. He then soon gets down to the route of the matter; sex, and whether she believes in committing the act before marriage, to which she agrees. Richie goes into overload and disappears upstairs on the promise that she will be up shortly, leaving her alone with Eddie, who becomes suspicious of her interest in Richie. Natasha reveals that all she is after is marrying into money so that her family don't go bankrupt.
Meanwhile, Richie is busy boning up on the act by reading More Joy of Sex, and is horrified by what he sees in the book's illustrations. Natasha then wanders in, undresses and climbs into his bed. In the excitement, Richie keels over.
The episode ends with both sat in the back of an ambulance en route to the hospital; Eddie lets it slip that whilst they were waiting for the ambulance to arrive, he had sex with Natasha, and insists "she was crap anyway." Richie quietly asks Eddie to hand him the defibrillator pads, and electrocutes him through the head.
Guest Stars
Edit
Helen Lederer as Lady Natasha
Lisa Maxwell as Lily Linneker
Kelly Hunter as Mrs Gascoigne
Helen Lederer previously played the nurse in "Apocalypse," and appeared as a midwife in an episode of Filthy, Rich & Catflap.
Fluffs (read before adding to this section)Edit
Lily Linneker's desktop computer is clearly switched off throughout the first scene, however she is somehow able to use it to find Richie a date.
Continuity
Edit
Eddie again makes reference to his mother, this time to Lily Linneker, confirming that she was in fact Adolf Hitler. He previously made reference to this in "'s Up" from series one.
The front door to the flat inexplicably opens from the opposite direction for this episode only.
External Links
Edit