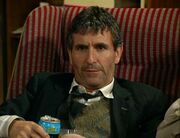 Dave Hedgehog
is a recurring character in the British sitcom
Bottom
.
He is portrayed by British actor and comedian Christopher Ryan. He is one of Eddie's best mates, along with Spudgun, whom he is never seen without. His first appearance is in the episode "Accident" when he is invited over by Eddie to participate in Richie's birthday party. He later appears in the episodes "Terror," "Holy," "Dough" and "Parade."
Appearance
Edit
Dave Hedgehog is a short, middle-aged, unshaven white male with greying black hair and an unkempt appearance. Like the other main and recurring characters, he is always seen wearing the same outfit.
Personality & Lifestyle
Edit
Hedgehog is generally reserved, quiet and clearly intimidated by Richie. He shares Spudgun and Eddie's general dislike for Richie and only associates with him because he lives with Eddie. In "Accident," he willingly participates in a game of hide and seek, which results in him assisting Eddie and Spudgun with carrying a wheelchair-bound Richie up the stairs and into a cupboard with no intention of taking the game any further. In "Holy," he tells the boys he has a wife called Susan, and in "Terror," it is revealed that he has a daughter called Doreen, whom Richie mistakes for the Devil when she knocks on the door looking for her father. Early into the plot of "Terror," Hedgehog becomes visibly disturbed when Richie tells him that the Devil only drinks the blood of virgins, yet the fact he has a daughter would make his panic unnecessary.
Richie: Why do they call you Hedgehog?
Dave: Give me a hedgehog, and I'll show you why.
Eddie: Richie; you don't want to see it...
Christopher Ryan previously portrayed Mike in the sitcom The Young Ones, alongside Rik Mayall and Adrian Edmondson.
Rik and Ade's characters in Bottom were not dissimilar from their Young Ones and Filthy, Rich & Catflap characters, and could be considered a natural evolution. Ryan's character of Hedgehog however is a far cry from the suave, cool and sophisticated Mike seen in The Young Ones.
Christopher Ryan appeared in Episode 3 of the new Absolutely Fabulous specials in 2012 alongside Jennifer Saunders - Adrian Edmondson's wife.
The origin of his surname "Hedgehog" is initially suggested to relate to a trick he can perform with an animal of the same name, however in later episodes it is revealed that his wife and daughter also share the same surname.
Community content is available under
CC-BY-SA
unless otherwise noted.