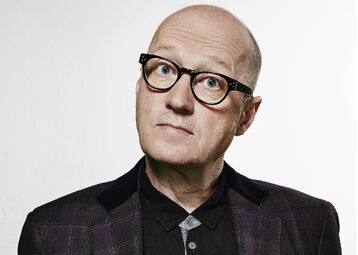 Adrian "Ade" Edmondson [b. 24 January 1957] is a British comedian, actor, TV chef and musician. He is best known for his long standing comedy partnership with Rik Mayall, and was one of the pioneers of the alternative comedy scene of the 1980s. He has appeared with Mayall in a number of TV, film and live productions, including The Young Ones, The Dangerous Brothers, The Comic Strip Presents, Filthy Rich & Catflap, Bottom, the Bottom Live shows, Guest House Paradiso, Jonathan Creek and Blackadder. Since 2008 he has been a member of the folk band The Bad Shepherds, of which he is the lead vocalist. The band regularly performs live around the UK and have produced a number of studio albums.
A versatile entertainer, he has appeared in various television programs and films in both serious and comedic roles, and as of 2012 has starred in his own cooking show Ade In Britain. He also starred in Holby City between 2005 and 2008. In 2016, he starred as Count Ilya Rostov in a six-part mini series adaptation of Tolstoy's War & Peace. In 2017, he had a minor role in Star Wars Episode VIII: The Last Jedi as Captain Edrison Peavey. Since 1985 he has been married to comedienne Jennifer Saunders, with whom he has three daughters. He has homes in Devon and London. 
On dealing with the death of Rik Mayall, Edmondson has spoken infrequently on the matter. On hearing the news of Mayall's passing, he said "There were times when Rik and I were writing together that we almost died laughing. They were some of the most carefree stupid days I ever had, and I feel privileged to have shared them with him. And now he's died for real. Without me. Selfish bastard."
Only a week after he died, Edmondson performed on the Avalon Stage at the Glastonbury Festival with The Bad Shepherds, and dedicated the set to Mayall. In between songs he shared anecdotes about his late friend and was seen to be regularly toasting Mayall and looking up to the sky. In an interview with The Independent in October 2014, he said "I've been trying to think of a cogent way of talking about it but I think, the things is, I'm just completely awash still. I don't know where I am with him."
Community content is available under
CC-BY-SA
unless otherwise noted.