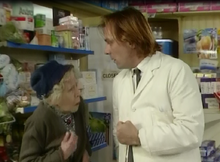 "'s Up" is the fifth episode of the first series. It was first broadcast on 14 October 1991. Richie's attempt to have a cultured Sunday morning is interrupted by their landlord Mr Harrison, who asks them both to watch over his shop for the day.
Richie wants to have a nice and British Sunday morning, but all Eddie wants to do is sit in front of the TV watching pornographic videos. His selection of features is disappointing however, as he ends up bringing home a variety of children's cartoons and uninteresting documentaries. After some usual bickering, their landlord Mr Harrison barges in and asks a favour of them - look after his corner shop whilst he sorts out his "stupid mother's bloody funeral." Richie refuses, touting the traditional Sunday values of your average British gentleman, soon forgotten when Mr Harrison offers him fifty quid.
All goes well until the shop actually starts getting customers, the first being Mr Cooper, who comes in to complain that he hasn't had his paper delivered. Richie is busy reading the last copy, and refuses to hand it over until Mr Cooper points out his name has been written on it by Mr Harrison. Richie ridicules him, referring to him as "Mr 55p" before Mr Cooper loses his rag and violently assaults him, bidding farewell to his good mate Eddie as he leaves. Richie then threatens an old lady and chases her out of the shop (whose son later shows up to punch him in retribution,) and then proceeds to offend a doctor trying to buy some champagne for his daughter. Having had enough of all the frivolity, Eddie fills up a hamper full of food and goes sunbathing on the roof, placing a bell on the shop door so he knows when to nip down. Richie joins him and both watch the cricket, the pitch being visible from the roof. 
Soon both become trapped on the roof and the shop gets looted whilst they look on helpless. Eddie manages to climb/fall down the drainpipe and re-open the roof hatch, but as he stands there gloating the hatch falls down again, putting them back to square one. As the heavens open, Richie punches Eddie off the roof.
Guest Stars
Edit
Roger Sloman as Mr Harrison
John Wells as The Doctor
Michael Redfern as John Cooper
Evie Garratt as The Old Lady
The episode marks the first of two appearance by Roger Sloman as Mr Harrison, the second being "Holy" in Series Two.
Fluffs (read before adding to this section)Edit
The video cassette of Big Jugs: A History of Pottery in the 19th Century clearly has an 18 certificate printed on it, however it's highly unlikely that a documentary of this type would have an adult rating.
External Links
Edit